What do YOU want to do
with your DAW?

>24/96 Recording and Mixing with lots of edits, plug-ins

>24+Tracks Recording and Mixing, some Plug-ins

>Basic Audio Recording/Multimedia


>Micro SATA Groove Machines

>Groove Machine Ultra Laptop

>Special/Closeouts


Dual Processor XEON

>SCSI-Based

>SATA-Based


Rack-Mount Solutions

FireWire 800 | SATA RAID| SCSI
External Solutions

FireWire/USB Portable Solutions


Accessories

Drive Carriers
What Applications have been tested with the Groove Machines?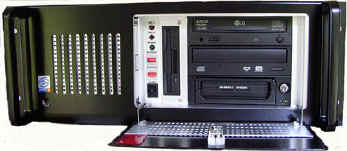 Available in a Black Or Silver 4U Rack Case
Detailed pictures
All Rack Mount Groove Machines include:

Key lock front panel

Windows XP Pro Optimization for Supreme Performance in audio/midi applications

Windows XP System Restore CD

1 year limited warranty plus manufacturers warranty

The latest in technology...

This machine includes the latest Processor and Hard Drive Technology available today- an Intel 800 MHz FSB 3.0 GHz Hyper-Threading Processor with a silent fan, 2 GB of DDR400 ECC RAM, 2 Serial ATA 150 MB/sec hard drives in a RAID 0 array (4 in total for 440GB of storage), A 4X DVD Burner, Firewire, USB 2.0, and a 1600x1200 DVI/VGA Dual Head Video Card.

Capable of processing over 50 24/96 audio tracks*, edits and plug-in's without breaking a sweat! Close to the power of a SCSI-based machine at a lower cost!

Model Number

GMR3.0 HT Ultra SATA

Select Case Color on Next Page

Also available in a Tower Case
GMT3.0 HT Ultra SATA $2775 -Tower Detail Pictures

Price

$2795
+ Shipping and Sales Tax (if applicable)

Processor

Intel Pentium 4 3.0 GHz 800 FSB with Hyper-Threading Technology and 512K Cache with Silent Fan

Memory
2.0 GB Dual Channel DDR400 in 4 512MB modules (Highest Quality) MATCHED PAIRS FOR ULTIMATE PERFORMANCE!
Motherboard
-Intel® 875P Canterwood Chipset
-Socket 478 P4 With ATA100 for system and backup drives
-4 Serial ATA 150MBps interfaces for audio drives with RAID 0 capability
-4 USB 2.0 Slots/2 USB 1.1 Slots
-3 Firewire Ports
-5 PCI Slots (PCI 2.2 Compliant) 5 available
-4 DDR400 Slots, 0 available
System Drive
Western Digital 80GB 7200 RPM 8 MB Cache partitioned into 2 40 GB Drives
Audio/Video/Backup Drive
Western Digital 120GB 7200RPM 8MB Cache in key lock removable drive bay with fan with EXTRA DRIVE TRAY for expansion.
Extra Audio/Video Drive(s)

2 Seagate Serial ATA Barracuda V 120 GB 7200 RPM Drives with 8MB Cache 9.0 ms seek time OR Western Digital Raptor 36.7 GB 10000 RPM drives in RAID 0 configuration - 150 MB/Sec throughput . Quiet and fast!

Video
Matrox Millennium P Series B 1600x1200 Dual DVI/1920x1440 Dual VGA Video Card
Power Supply
Antec 550W True 550 Low Noise Technology Maximum Power
CD-ROM/DVD-ROM
No
CD-RW
No
DVD-ROM
No
DVD-RW
Sony 4x DVD+/-R 24X CD Burner!
SCSI
No
RAID
Yes Serial ATA 0, 1, 0+1 capable
Firewire/USB Card
On Motherboard
Operating System
Windows XP Pro SP1 optimized for Audio/Video Production
Accessories
Mitsumi 1.44MB Floppy, Cordless Logitech Optical Mouse & Logitech 104 PS/2 Deluxe Keyboard
Case
4U Rack Mount Heavy Duty 1.2 Steel with a lockable front access panel, 3 fans , External Bays:3 x 5.25" (CD-ROM/Hard Drive) , 1 x 3.5" floppy, Internal: 4 x 3.5". Dimensions: 7" (H) X 16.614" (W) X 21" (L)
* Indicates testing results under precise conditions. Your performance may vary.